HOSPITAL / MEDICAL OFFICE BUILDING
CLINICAL LABS / PHARMACEUTICAL
'HRS' are highly experienced Consulting Architects, Engineers & Contractors to the Medical Healthcare Industries.
MONITORING AS AN OWNER'S REPRESENTATIVE:
New Construction
Remodels
Infrastructure Upgrades
Medical Equipment Upgrades
SERVICES WE PROVIDE: **
Pre-Design Consulting (Planning & Cost Mgmt)
Design-Phase Consulting (Design & Engineering Mgmt)
Construction-Phase Consulting (Construction Mgmt)
 **  See 'Services' page for an expanded list of Services within each category listed above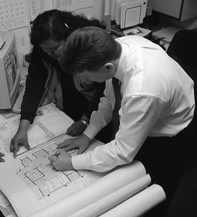 'HRS' consists of some of the industry's most talented architects, planners, engineers and contractors.  Some of us have been doing this for more than 30 years.  We understand the process of architecture and engineering.  We understand the process of construction.  We especially understand that construction of any kind is a hassle, even under the best of circumstances.
Assessing costs for expansions and new equipment is a huge undertaking and a full-time commitment.  We know this from experience!  'HRS' will prepare business plans and pro formas that show a cost benefit analysis of the work you are proposing to undertake, and whether keeping the old facility in tact or just tearing it down and starting from scratch is the best approach, given your budget.  'HRS' can do this for you!
During a routine site visit by your 'HRS' consulting team, a thorough investigation and scope review will be conducted.  We will consider the site logistics and code issues as it relates to your needs.  We will provide a detailed cost breakdown with a schedule in a simple format or provide a more formal visual  presentation for others to see.  The best of all potential options will be presented for your consideration.  And, should that not meet or exceed your goals and expectations, we will go back to the planning table to explore new options.
This early process of due-diligence is money wisely spent, long before you commit to costly architects, engineers and contractors.  As your consulting team, we will advise you on the most appropriate architectural or engineering firms to the task at hand.  Bigger is not always better.  We will assist in the bidding and selection process on your behalf.    More importantly, should you elect, 'HRS' will remain on board as your design team manager and liaison to ensure compliance with your established program needs and budget.
When the time comes to bid the architectural and engineering documents to the contractors, we will assist in "pre-qualifying" the appropriate professionals.  'HRS' will prepare the bid packages for release and when the bids return, we will assist you in qualifying the final selection.  We will do all of the busy work so you don't have to.  We will manage the contract documentation and paper flow between entities.  And, with our many years of experience, you don't have to lose sleep over the details.  That's what we do!
Finally, when the construction begins, 'HRS' can offer our services as your construction manager.  In this critically important role, we manage and chronicle all daily construction activities and report back to you.  We remove you from the burden of managing and directing the trades, but not from the circle of communication.
Our ultimate goal is to assist you and your shareholders in producing a quality product, on time and on budget, without all the hassles. 
Wherever you are located,  'HRS' can help.  Please contact us on our toll-free number to discuss your special scope of work.  Remember, what we offer are "practical solutions to your expansion needs."
Please stop at the 'Services'  page of our website for a detailed look at the many services we offer.